Shaken Baby Syndrome
All babies cry, but some cry more than others. Dealing with a baby that screams for hours on end can be tremendously stressful for any parent! Shaken Baby Syndrome is a very serious brain injury that occurs when a frustrated caregiver shakes a child, usually to stop them from crying. In the past few years in our community, there have been a number of infant deaths caused by caregivers shaking babies. Most infant victims of Shaken Baby Syndrome have also been struck or thrown.
Shaking a baby will not stop it from crying. Use the links and tips below to learn what to do if a crying baby is driving you to distraction or anger. If you have tried all of the comfort techniques you can, take a break. Try leaving the baby in a safe place like a crib and go outside for 5 minutes to calm down.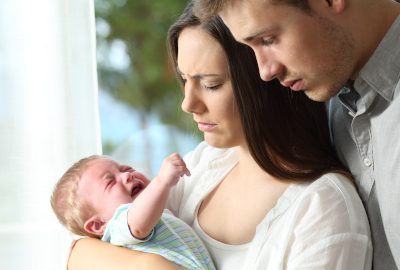 Remember!
Babies do not die from crying in their cribs, instead they can die from injuries caused by stressed-out caregivers.
Tips for Frustrated Parents and Caregivers
Parents and caregivers should prepare themselves to deal with crying babies, frustrated feelings, and toddler misbehavior. If you are feeling stress when you are with your baby, you are NOT alone.
S.K.W.A.K! = Safe Kid, Walk Away: If a caretaker gets angry at an infant or child, they need to be sure the baby is safe, and then walk away. "Get a grip before YOU grip" is also a great way to remember this.
COUNT TO 10 AND CALL A FRIEND: Take time to breathe, find a support system such as a friend or family member, or call the 24-hour Childhelp National Abuse Hotline.
1-800-4-A-CHILD (1-800-422-4453) All calls are FREE and CONFIDENTIAL. Our counselors will guide you through this stressful and challenging time.
There are many free parenting support groups in most communities. Our Hotline can provide referrals.
Check to see if there is something you can do to relieve the baby's crying, such as feeding, changing a diaper or relieving physical discomfort.
Know your caregiver. Leave your baby with someone you trust during stressful times.
IF BREATHING HAS STOPPED, never rouse a baby by shaking him; rather, pat him/her and call out to him/her. If needed, phone 911 or emergency assistance.
AVOID SWINGING AND BOUNCING WILDLY.
NO MATTER HOW UPSET YOU FEEL, NEVER NEVER NEVER SHAKE YOUR BABY!
About Us
The Forsyth County Infant Mortality Reduction Coalition is a community partnership housed within the Forsyth County Department of Public Health.
Latest Event
September 19, 2019
---
Our Contacts
799 North Highland Avenue
Winston-Salem, NC 27101
(336) 703-3260
(336) 703-3100