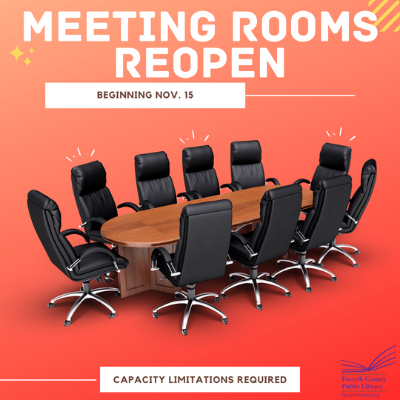 POLICIES AND CONDITIONS OF USE
The Forsyth County Public Library's "Meeting Room Policy" must be adhered to at all times
Reservations
Reservations are made on a first-come, first-served basis, and can be made up to 45 days in advance.
Meeting rooms are available during library business hours, excluding library holidays. All event/meeting organizers and attendees must leave the building by closing time.
Rooms are only available for the duration of the booking. Make sure to reserve enough time for setup and clean up.
All users may reserve meeting rooms up to three (3) times in a 14 day period.
Small meeting rooms (rooms with a capacity of four or less) may be booked no more than 4 hours per day.
Reservations must be made by an adult, eighteen (18) years of age or older.