The Forsyth County Public Library Homebound and Institutionalized Department, also known as Adult Outreach, began delivering library materials to customers in 1972. The staff provides special services to customers who are homebound, institutionalized or otherwise unable to travel to one of our library buildings.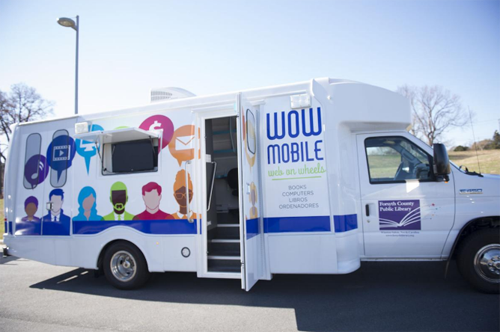 WHAT WE DO
We serve over 50 facilities in Forsyth County, which includes rest homes, nursing homes, assisted livings, independent living apartments, continuing care retirement communities as well as congregate meal sites, likewise known as the Senior Lunch Program.
For our customers to enjoy, we provide:
Large print books
Large print magazines (select titles)
Popular movies
Audiobooks
DOWNLOADABLE MEDIA
Downloadable Media is also a click away with a library card 24 hours a day, 7 days a week.
BIFOLKAL KITS
Bifolkal Kits are unique tools offered to Activity Directors working with seniors. The kits contain sensory stimulation activities that are an excellent resource to engage seniors in theme based reminiscence activities. Library materials are also available through the NC State Library for the Blind and Physically Handicapped and the toll free number is 1-888-388-2460.
PARTNERSHIPS
We collaborate with the City of W-S as a supporter of the Piedmont Plus Senior Games each year by helping with the Senior Games Kick-off Health and Information Fair, Senior Games Luncheon Fundraiser and Opening Ceremonies.
We host "Welcome To Medicare" programs at branch libraries in conjunction with the Shepherd's Center of Greater W-S. SHIIP counselors are available at the programs to assist soon to be 65 year olds with navigating through parts A, B, C and D of Medicare. More information is available about Medicare and SHIIP counselors on the NCDOI and the official U.S. government site for Medicare.
December through March the library posts information about the Low Income Energy Assistance Program, seniors (60+) and disabled persons are potentially eligible to receive assistance with their heating bill. More information about the program can be found through the Department of Social Services.
HERE FOR YOU
The A.O. staff are ready to serve you when you " find yourself at the Library," because we want the FCPL to be " the very best place to start" when searching for information. Feel free to give us a call at (336) 703-2903.